Basement Renovations In Vancouver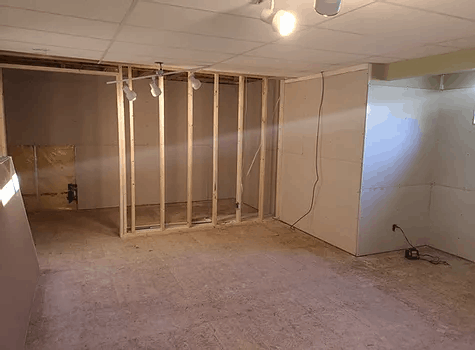 Renovate or develop your basement today with trusted and certified experts in Vancouver and surrounding area. Get a Free estimate.
Expand your living space with a basement renovation
Basement development and basement renovations in Vancouver can nearly double your home's useable living space. If you have an unfinished basement or a dated basement you never use, you could be missing out. Basement renovations can transform that space into something beautiful and functional while adding value to your home.
Basement renovation ideas you'll love
When starting a significant Vancouver basement development or renovation, you must first decide how you want to use the basement. Being clear on how you want the basement to turn out will help our professional designers create a plan and an estimate that will best match your vision. Popular basement renovation ideas include:
Basement finishing. Starting from scratch, you can add family rooms, bedrooms, bathrooms, a home office, and more!

Home theatre rooms

Family room renovations

Basement bar and entertainment areas

Basement bathroom additions

Additional bedrooms

Basement laundry room renovations

Basement gym and fitness areas

Home offices or learning spaces for homeschooling

Secondary suite development so you can earn extra income by renting out your basement to suitable tenants.
No matter how you want to remodel and enjoy your basement, our expert team is up to the task.
We take care of everything
As your basement renovation contractor, we will manage the project from start to finish. Always keeping you in the loop, we'll schedule and manage all sub-trades that will work on your project. We will obtain any necessary permits for your basement development and ensure everything is completed to code. If you have any questions or concerns, your project manager will be available to speak with you throughout the project.
I'm ready to renovate! What's the first step?
The first step in your basement development or renovation project is by calling us for a no-obligation estimate. One of our experienced team members will discuss your ideas and vision. From there, we will make an appointment to visit your home to take a look at the basement and space you want to remodel.
After our discussion and brief inspection, we can offer advice and create an estimate based on your needs and wants. From there, our experienced designers would build a design plan that includes all your needs and wants. The design plan will ensure your new basement is beautiful, comfortable, functional, and value-adding.
Our estimates are obligation-free for any basement renovation project. We look forward to speaking with you and embarking on your Vancouver basement renovation. Contact us today!